Our Dentists
Dr. Michael Scoles
Dentist, husband, father, veteran, and aviation hobbyist.
From Paisley, Oregon (population 435) to the Pacific Northwest, Dr. Michael Scoles' life and career have taken a nontraditional route in more ways than one. At age 17, Dr. Scoles' ambition was to become an aeronautical engineer. But after he got to hold the mirror during his wisdom teeth extraction, his fascination turned to the mechanics of dentistry. His passion for building things, however, remained strong.
Dr. Scoles attended Oregon State University as an undergraduate and obtained his dental degree from Temple University in Philadelphia.
After dental school, he served in the US Navy for three years. While in the Navy, Dr. Scoles received advanced training in Oral Surgery, Endodontics and Prosthodontics at the Naval Submarine Base, Bangor in Silverdale, Washington. This additional training enables Dr. Scoles to perform a wider array of procedures in the practice, procedures that would normally have to be referred to a specialist.
Dr. Scoles is a master trainer for CEREC technology. A technique that allows dentists to make crowns in a single office visit. He enjoys teaching other dentists and sharing his knowledge. He also lectures around the country on behalf of one of the leading dental product manufacturers teaching dentists about the newest materials available.
After fulfilling his military obligation, he returned to the Pacific Northwest and has practiced here for the past fifteen years at his offices in Renton and Issaquah. Dr. Scoles and his wife Laylia have two boys Kai and Jace. Besides spending time with his family, he enjoys kiteboarding and building large scale model airplanes.
In addition to treating patients, Dr. Scoles enjoys educating other dentists. He's become a sought-out speaker, lecturing across the country on topics such as guided implant surgery and dental restorative materials.
"Both of my parents were teachers." Dr. Scoles states. "Education is in my background, and will continue to play a big role in my life."
---
Dr. Lee H. Zamos
Dentist, husband.
Dr. Lee H. Zamos originally from Auburn Twp., OH grew up as the youngest of 5 boys in his family. Prior to dental school, Dr. Zamos completed his undergraduate education at Miami University where he played Varsity Football and earned a B.A. in Zoology. Following Miami Dr. Zamos attended the University Of Kentucky College Of Dentistry where he earned his DMD in 2015. While a student Dr. Zamos was published in dental ethics journals and won national accolades for his clinical research on dental implants.
Upon graduation Dr. Zamos pursued advanced training in hospital dentistry and completed a General Practice Residency with the University of Washington Dept. of Oral and Maxillofacial Surgery at UW and Harborview Medical Centers. During residency Dr. Zamos got advanced training in hospital dentistry, oral surgery, emergency dentistry, root canals, pediatric dentistry, clinical pathology, dental implants, as well as the safe treatment of medically compromised patients.
Following residency Dr. Zamos spent three years working as a dentist for the Tulalip Tribes of Washington where he gained tremendous clinical experience and a deep respect for the Indigenous people of the Pacific Northwest.
Dr. Zamos brings a commitment to excellence, patient education, and compassionate care to his practice. He is an active supporter of the American Dental Association and its local components, as well as an active member of the Academy of General Dentistry and the American Academy of Cosmetic Dentistry.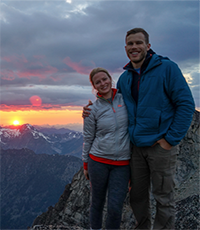 Dr. Zamos stayed in Seattle after residency because he fell in love with the active lifestyle and natural beauty the northwest has to offer. Away from dentistry Dr. Zamos enjoys spending time with his wife Katie, travelling, mountaineering, playing basketball and spending time on or in the water.
"I am incredibly happy to join Dr. Scoles and the rest of the staff in Issaquah. Dr. Scoles' reputation for excellence precedes him, and I'm excited to continue my lifelong commitment to learning with our amazing team and patients."